Transform - Certificate of
Executive Nonprofit Leadership
Complete our
Certificate of Executive Nonprofit Leadership
As the current or future executive director or senior leadership team member of a nonprofit organization, the pressures you deal with from day-to-day are enormous. Every day you are called upon to create and sustain an environment that enables your staff to renew their commitment and refine their skills.
But where do you, the executive director or senior management team member, go to renew your commitment and refine your skills?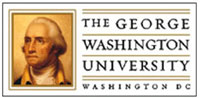 The Transform – Certificate of Executive Nonprofit Leadership program is hosted by the Trachtenberg School of Public Policy at George Washington University and includes professors from the George Washington University Business School, Harvard Business School, Harvard's JFK School of Government, Oxford's Said School of Business, Georgetown Business School and Duke's Fuqua School of Business.
Transform – Certificate of Executive Nonprofit Leadership is a course in Transformational Nonprofit Leadership. In this interactive course you will learn 'transactional' skills such as how to manage your staff, how to cultivate donors, how to build your board of directors and how to create a strategic plan – all through the lens of the transformational leader.
(I'm short on time right now and really just need to see how my organization would benefit from participation in this training program. Can I see a summary of what I will receive if I decide to participate in Transform?)
OK, sounds good, but what will my actual Classroom Experience be like from day to day?
What will the quality of the instruction be like? Who will be teaching the classes? The primary facilitator will be Anthony Silard, President of The Center for Social Leadership. All additional facilitators are CSL's very carefully selected Best Practices Leaders.
How will the classes be taught? CSL uses an experiential, interactive framework in every aspect of this certificate program.
What about Social Activities that will help me build peer network of other nonprofit directors and have some fun?!
What will the Participant Mix be like? Which sectors will they be drawn from? Is this the right program for me?
See a list of CSL's thousands of Nonprofit Leadership Program Alumni – nonprofit organizations that have participated in CSL's nonprofit leadership training programs. Check out the Video and Written Testimonials on Transform – Certificate of Executive Nonprofit Leadership from some of our alumni.
(The above view is from the L-shaped promenade outside The City View room at George Washington University, where three of the 4 days of the Transform program will take place. The fourth day will take place in smaller breakout rooms at GWU. The indoor view of the City View room is below.)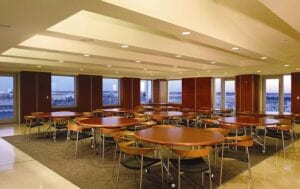 How about the Measurable Value/Return on Investment of the program to our nonprofit that will justify my taking it? What are the future Organizational Outcomes and Organizational Takeaways we can expect?
Is this just a one-shot conference or am I joining a Continuous Learning Community that includes both preparation and follow-up so I can truly master the skills taught at Transform and make a long-term breakthrough in the development of my personal leadership style?
Transform – Certificate of Executive Nonprofit Leadership is a unique opportunity available for current and future nonprofit leaders to discuss crucial skills areas with a diverse group of nonprofit leaders who will share their successes, challenges and insights into how to run an effective nonprofit organization.
Contact CSL if you are interested in setting up a Transform – Certificate of Executive Nonprofit Leadership for nonprofits in your region, focus area or funding area.